GEOLOCATION AND FLEET MANAGEMENT
Axxès has created the innovative Fleet Manager, a complete real-time geolocation application for your fleet designed for freight and passenger transport professionals. Control your deliveries from your computer or smartphone, preparing routes for each vehicle and tracking their positions moment by moment. View detailed activity reports for all your shipments and redefine routes to minimise the cost.
Using geofencing, alerts are triggered whenever a vehicle enters or leaves a zone. End customers are informed in real time when the goods reach their destination.
Real-time traffic information allows you to warn your drivers of congested routes and manage delays. With the route planner, it is possible to calculate the best routes for your drivers based on toll costs, mileage and travel time. View the journeys made by a fleet at a given time, with route histories. Manage eco-driving with CO2 and route information such as vehicle accelerations, slow-downs and stops. Download reports to supply information to dashboards (toll consumption, routes) for each vehicle.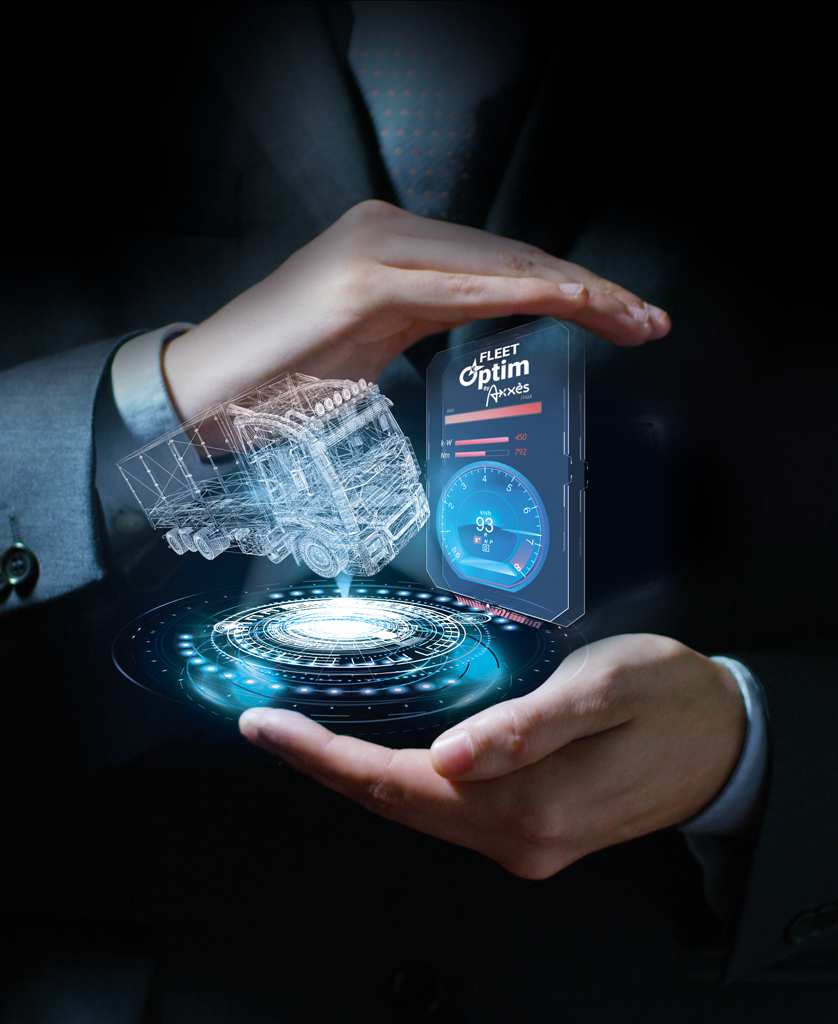 Fleet Optim' enables you to plan routes based on vehicle size, traffic restrictions, bridge heights, the transport of hazardous materials, roadworks and road closures.
The calculated driving and rest times are included in the proposed route in line with the regulations in force.
The Google Street View system built into the mapping helps and guides your drivers to the destination point, displaying nearby streets and visualising entrances and exits from a zone.
Activity reports to boost your performance.
360° view of activity, visualise the time drivers have spent stopped, driving and working. Simpler invoicing, analyse drivers' behaviour at the wheel with information on acceleration, braking and fuel consumption to limit the risk of accidents and reduce maintenance costs.
Technical reports on fuel consumption and tank levels, CO2 emissions, mechanical alerts, battery charge and vehicle servicing and maintenance.
Data Connect is a collaborative solution for tracking deliveries and charters for all the players in the supply chain. This service opens the doors to the biggest contracts, customers and charterers, with no need for extra investment or changes to your working methods. Access an unlimited number of subcontractors to carry out assignments based on the specifications. Manage your transport activity with a 360° view via a single platform.
For freight carriers :
Automatic real-time GPS data reporting.
Option of working with logistics organisations to develop business in difficult-to-access markets.
For charterers and transport customers :
Checks that subcontractors have delivered the goods correctly
Instant access to predictive and real-time delivery information
Proactive flow management (loading/unloading at the loading bay)