Pair your app with the OBU or the vehicle :
Either take a photo of the registration or enter it manually
Or scan the OBU PAN or enter it manually
If pairing fails :
The smartphone is too far from the vehicle/OBU: Get closer to the vehicle
Network problem: move until you pick up a GPS signal
If the problem continues, contact your advisor.
When driving :
Speed > 10 km/h: browsing disabled
Any red alerts (critical) or orange alerts (major) received are read aloud
When stopped :
No notifications are sent to you.
Les alertes : 
Red

 alerts : stay on the screen until the notification is closed manually

Orange

 alerts : stay on the screen for three minutes and then disappear

blue 

alerts : are not displayed. They can be found in the alert log.
Quelques exemples :
| NOM | PICTO | QUE FAIRE ? |
| --- | --- | --- |
| Faulty unit | | You can no longer drive. Stop and contact your advisor. |
| Low battery or OBU disconnected | | Plug in the OBU immediately with the cable supplied by Axxès, or check the connection. Otherwise contact your advisor. |
| No network subscriptions | | Your unit is not authorised for the VIAPASS (Belgium), LKW Maut (Germany) or ASFINAG (Austria) networks. Stop and contact your advisor. |
| Private mode activated | | You can still drive on the different networks and pay with your OBU. The OBU geolocation service is interrupted until this mode is deactivated. |
| Private mode deactivated | | The geolocation service is reactivated. |
| Faulty unit | | Contact your advisor next time you stop. |
| No GPS signal | | Make sure you are in an area where the signal is strong (not in an underground lorry park, tunnel etc.). |
Alerts received during the last 72 hours can be found in the alert log.
End of day or change of vehicle
If you close the app at the end of the day and use the same vehicle the next day, the vehicle will still be paired with the app. If you change vehicle, you must unpair the app : go to the "Settings" page and select "unpair".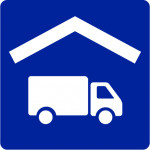 Reserving parking spaces
Go to the "Trucks'nB" page of the app to reserve a parking space. The app uses geolocation to make searching simpler. You can also search for lorry parks near a specific town to make a reservation. Just enter the name of the town and the services you need. Use your Axxès electronic toll collection box to complete the booking.