AT THE CORE OF EUROPEAN TRANSPORT, AXXÈS ETC SYSTEMS AND ON-BOARD EQUIPMENT FOCUS ON MOBILITY AND EFFICIENCY.
Expert in interoperability, with over 300,000 vehicles equipped and an advanced geolocation option covering over 60% of this fleet, Axxès is an innovative driver among its customers.
With business growing quickly, the road freight and passenger transport in Europe promises further rapid development in the coming decades. Choosing the number 1 in European Electronic Toll Services means joining the flagship ecosystem in the single market.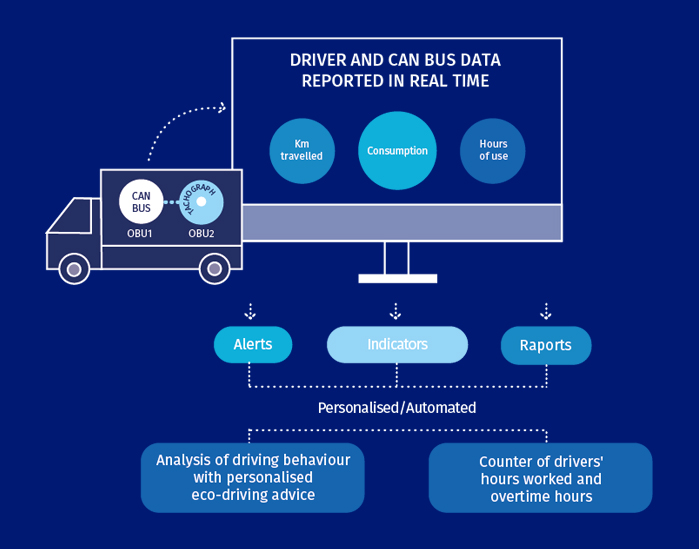 AT THE HEART OF SMART TECHNOLOGY, TAKE THE LEAD
Axxès offers increasingly powerful technologies that support European transport policies and promote a greener, fuel-efficienttransport.
Built on cutting-edge technology and a smart analysis of transport data, Axxès solutions are constantly improving and perfected to adapt, imagine and design a more mobile, sustainable future.
Whether you are an equipment supplier or a service provider, the  Axxès ETC framework places intelligent, dynamic transport systems at the centre of your activities to:
Optimise distances and routes
Promote eco-friendly driving
Enable real-time traffic monitoring with satellite navigation systems (GPS, GLONAS, Galileo)
Implement electronic tools to simplify administration
Improve the on-board technologies mix (electronic tachograph, emergency calls, ….)
Axxès gear puts high tech to work for our customers
Deploying next-generation on-board units compatible with telematics services
Systems and solutions targeting interoperability open to all system suppliers
Integrating GNSS (Global Navigation Satellite System), GSM and GPRS with automatic alerts ,programmable or triggered upon accidents, traffic disruption or any real-time occurrence of scheduled events.
Let's pool our expertise – integrate your services with Axxès platform.